Wealthify joins Starling Bank's Marketplace
25th April 2018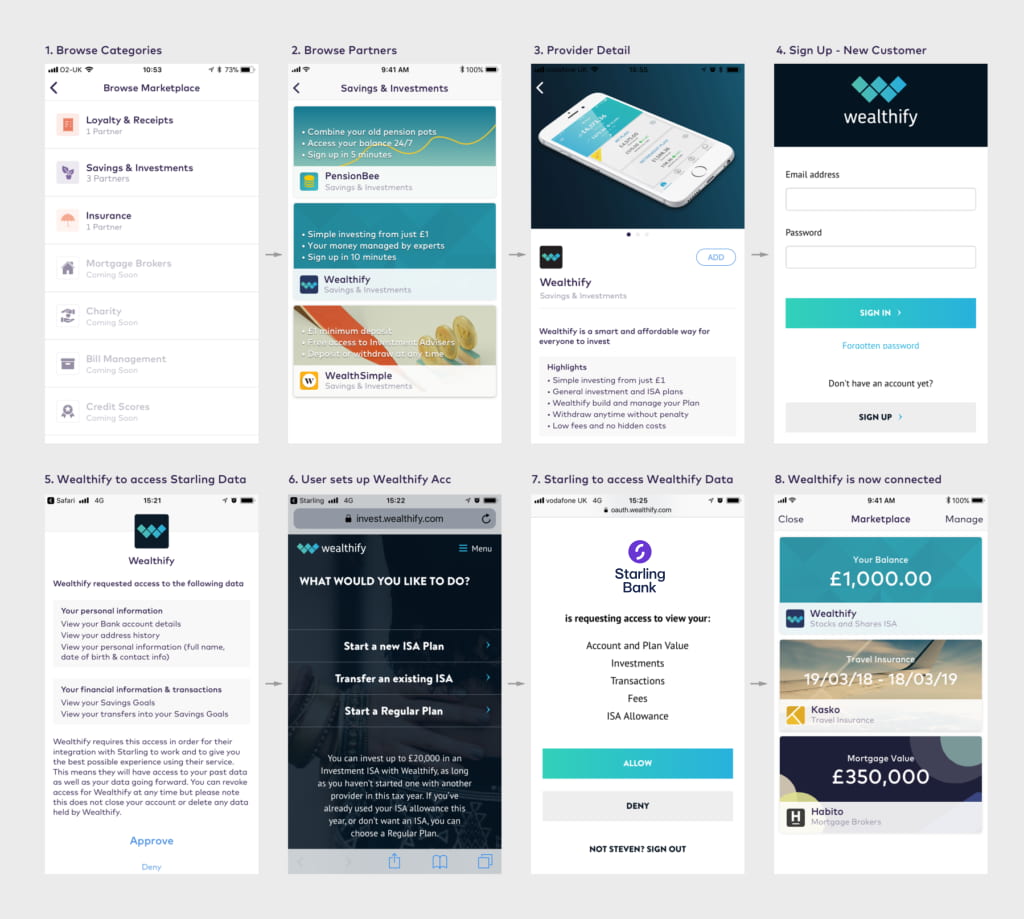 Online investment service added to Starling's in-app Marketplace Customers can start investing from just £1

Starling targets 25 Marketplace partnerships in 2018
Starling Bank today welcomes Wealthify, the online investment service, to its in-app Marketplace.
Wealthify, backed by insurance giant Aviva, offers low-cost ISA and general investment plans that contain a broad range of investments, such as shares, bonds, property and commodities. Designed to make investing easy and affordable for everyone, customers can begin with just £1 and retain easy access to check their investments, top up, or withdraw funds at any time.
Starling's in-app Marketplace, launched in February 2018, offers its customers direct access to financial services and products securely on their phone. Starling has existing partnerships with pension provider PensionBee, digital investing service Wealthsimple, mortgage broker Habito, travel insurance provider Kasko and receipts & loyalty partner Flux.
Launched in 2016, Wealthify aims to democratise investing by challenging people's misconceptions about it: that it costs a lot, that you need lots of experience, that it's only for the super wealthy, and that it's inherently high-risk. Wealthify's investment experts build and manage investment plans for customers based on their goals and preferred balance between risk and return. Fees are kept low and simple, with an annual management fee of no more than 0.7% and average fund charges at 0.18% per year.
Wealthify will be available to all Starling customers from today, and existing Wealthify customers can now get an overview of their investments via their Starling account.
Megan Caywood, Chief Platform Officer, Starling Bank said:

"At Starling, we're on a mission to deliver our customers the best banking experience in the world. By partnering with innovative and disruptive companies such as Wealthify, we're aiming to bring the best financial services and products directly into our customer's pockets through our in-app Marketplace. We are excited to welcome Wealthify and look forward to announcing more partnerships soon."

Michelle Pearce, Chief Investment Officer, Wealthify said:

"The open architecture marketplace that Starling has created is a vision of the future of banking, and how it should be – seamless access to great products , coupled with a complete view of what you own and what it's worth. Their simple and transparent approach is perfectly aligned with our mission to democratise investing, by breaking down the common barriers holding people back, such as lack of confidence, the belief that you need to be an expert to invest, or thinking you need lots of money. We're extremely excited to partner with Starling Bank and pleased to be able to offer their customers easy access to Wealthify investment services through the in-app Marketplace."
---