Refer a friend
Spread the Starling word, and earn a free National Trust day pass – redeemable at hundreds of the places they look after.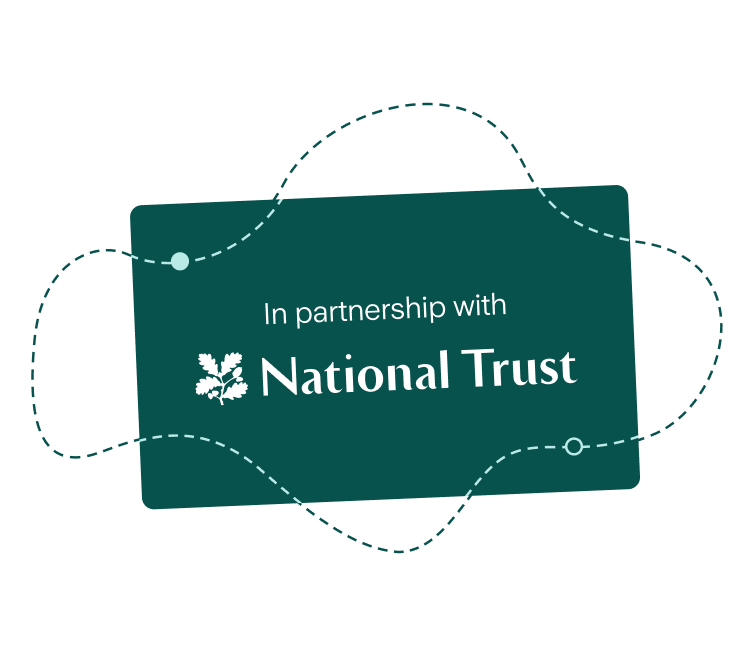 Banking worth sharing. Nature worth exploring.
Send your referral link to a pal and – if they open an account – you'll both earn a free day out at a National Trust site of your choice. We'll send you both separate passes, which grants entry to one individual each.
How to earn your free day out:
Step 1
In your app, tap your profile picture in the top right and choose 'Refer a friend'.
Step 2
Read the information and, when you're ready, tap 'Share referral link'.
Step 3
Choose your friends, add a personal message, and share away.
Open app
Once your friend's account is approved, we'll separately send you both free National Trust individual day passes. Planning more than one referral? Great – there's no limit to the number of days out you can earn.
A natural partnership
The National Trust looks after the places you love, from houses, buildings and gardens to coast and countryside. They work hard to protect our native wildlife, iconic landscapes and historic sites for future generations, and to make nature accessible for everyone.
We're doing our part too.
We're committed to looking after the planet as well, from sustainable packaging to recycled debit cards. Working with the Trust, we're investing in:
workshops to give primary and secondary school children better access to nature
sustainability projects, such as protecting and restoring peatland, one of our most important terrestrial carbon stores
We've got plenty more planned together – and there's lots to look forward to as a Starling customer too. Keep an eye out on our future communications.
Refer a friend
Our values match yours
A greener way to bank
We never invest in fossil fuels. We're paperless and branchless, with recycled debit cards and eco-friendly offices too. Plus we've planted 100,000 trees. Read more about our approach to sustainable banking.
Making money equal
Changing finance means making money equal for everyone. We campaign against financial stereotypes, talk in plain English and democratise financial education, so everyone's included.
Founded by a woman
We're the only bank in British history founded by a woman. And it shows. Forty percent of our leadership team are women, and we're supporting efforts to get more women into engineering roles.
Not a Starling customer yet?
If you know someone who banks with Starling, ask them to refer you. If not, don't worry – you can still apply for a Starling account, but we won't be able to send you a free National Trust day pass.
Apply now
Frequently asked questions
How do I receive and use my National Trust day pass?

Once your friend has opened their Starling account, we'll send you both an email with your passes attached as a PDF. You'll also be able to view and download your access pass in the referral section of the Starling app.

Do I have to use my pass at the same time and place as my referred friend?

No. They are individual day passes and can be used separately.

I'm a National Trust member – can I give my free day pass to someone else?

Yes, anyone can use your free pass so long as you're also there. For example, you could give the pass to your friend, and enter as a pair. But you couldn't give the pass to your friend, for them to enter alone. This applies whether you're a National Trust member or not.

Which National Trust locations can I visit with my pass?

You can visit any of the hundreds of places looked after by the National Trust across England, Wales and Northern Ireland. Your pass is valid for National Trust for Scotland sites and properties too.

Visit the National Trust website and the National Trust for Scotland website to plan your visit, and to check for open properties, any changes to opening hours and any pre-booking requirements before your visit.

Does my free pass include parking?

Your free day pass covers you for entry to a site or property. It doesn't include free parking at the site.