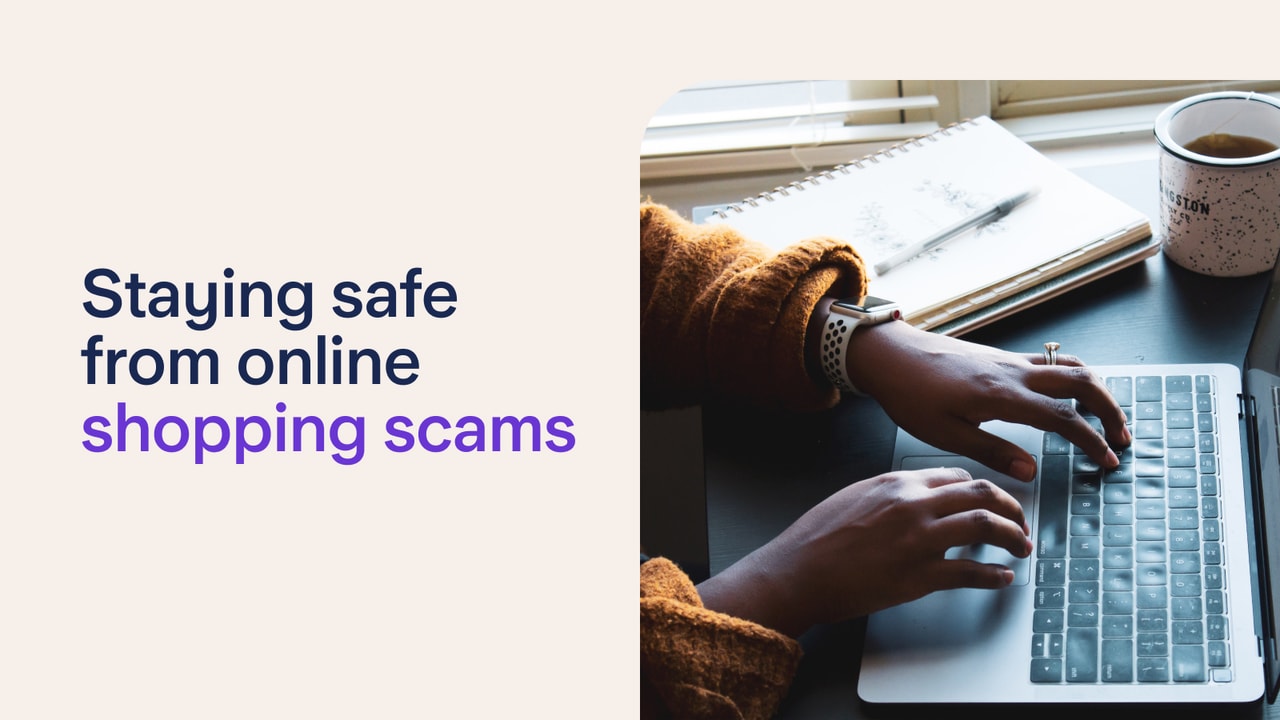 If you come across a great deal online, it's often hard to resist, isn't it? The internet gives us such an amazing choice of things to buy. But it also provides fraudsters with a lot of opportunity to scam unsuspecting shoppers.
Fraudsters often advertise non-existent goods or services on social media, online marketplaces or on fake websites to steal your money, so it's very important to know how to identify these scams.
Spotting a fake website
Before you commit to a purchase, take a good look at the website. Here are some top tips to help you stay safe:
How did you find the website? Clicking links in an unexpected email, text or online ads can be dangerous - you may inadvertently provide fraudsters with your personal and financial details. These links could also result in damaging software being installed on your device. Where possible, use previously tested or trusted links to access a site.

Check the URL. Some sophisticated fake websites may appear to be the site you're intending to browse, but may include a slight misspelling in the URL. It would also be unusual for a retail website to use .org or .net domains.

If the page has lots of spelling mistakes or poorly formed sentences, then alarm bells should be ringing. Check available tabs on the website, such as the 'about us' or 'contact us' sections. If these are broken, or contain generic or unhelpful information, perhaps not providing direct contact information, avoid the website.

Many of our favourite sites entice us with ads. If you have any doubts about the legitimacy of an advert, visit the website of the company or product you're interested in directly, rather than relying on redirection (in other words, don't click on the ad).

Check the site for the returns policy. If this isn't available (such as no return shipping address) then steer clear, it might be a scam.

If you're making a purchase from a retail website, you should be able to pay by debit/credit card. If the website requires payment by bank transfer, stop! Very few legitimate websites will request a bank transfer: it offers you little protection and it can be difficult for your bank to get your money back if something goes wrong.
Buying from social media or a marketplace
When purchasing through a social media site (such as Instagram), or a marketplace (for example Gumtree or Depop), or a marketplace (for example Gumtree or Depop), you can sometimes get a great deal by purchasing directly from an individual. The issue is that there are often no checks made by the platform to verify that the seller is genuine.
The first step before making any purchase from such a site is to understand what protection is offered to a buyer (potentially you), by the website. Some sites will allow you to pay the seller by card via their own payment service (think Depop or Ebay), and may offer a facility to help you resolve any issues about the purchase - for example if the item doesn't turn up or isn't what you expected. Paying outside of the platform means you won't be entitled to such protection.
Social media marketplaces (such as Facebook) and some marketplace apps (such as Gumtree), rely on you managing a purchase with a stranger/seller yourself. The intention with these platforms is for you to purchase locally, meaning you can see the goods in person before handing over any money. You could always choose to meet the seller in a public place to keep yourself safe and take a friend or family member with you.
Never make a large purchase on social media or a marketplace without seeing the item in person first - particularly for goods such as vehicles (where you should carry out extra checks, such as checking the paperwork is registered at the address you view the vehicle at and performing an HPI check to ensure it's not stolen).
If buying a service, try and get a recommendation from a friend or relative that's used the seller before. Research the company and check reviews on a site like Trustpilot to get feedback from other customers.
Red flags when buying from social media or a marketplace
Here's what to look out for:
The offer looks too good to be true

You can't see the items in person or by video call

You're asked to pay in full by bank transfer

The bank details you're given are in a different name to the seller

You're asked to pay using the 'family & friends' function on Paypal - always use the 'paying for an item or service' option to be covered by Paypal's Purchase Protection.

Any reviews you find are overly positive or are all very new - this could be an indication they are fake
Always remember, if it sounds too good to be true, it probably is! When shopping anywhere new, always take some time to verify the seller. You can find more useful tips by visiting the website of our friends over at Take Five.