Starling Bank and SumUp partner to bring faster payouts to hundreds of thousands of small businesses in the UK
29th July 2019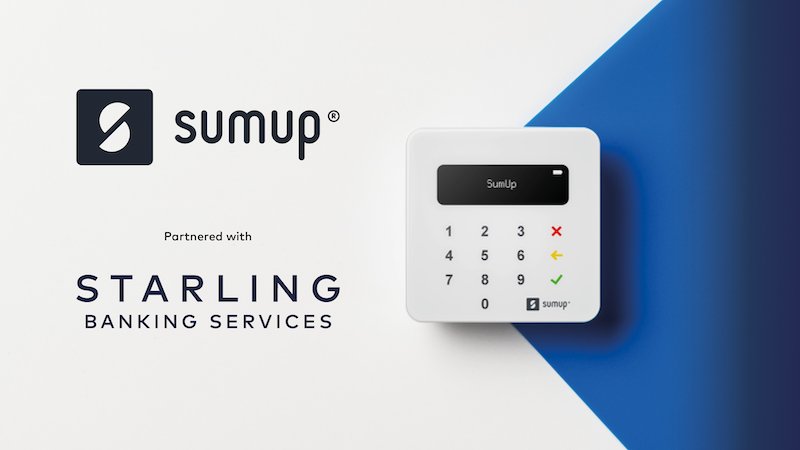 London, Monday 29th July 2019: Starling Bank, a leading digital banking platform, has partnered with SumUp, Europe's leading mobile point of sale company, to provide small merchants with access to faster settlements.
With its card terminals relied upon by over 1.5 million users globally, SumUp is helping small business merchants by delivering access to affordable and easy-to-use payment devices. Their terminals can be used with an accompanying app and, crucially, without an app, via their standalone 3G Reader solution which comes with an integrated free data card.
Starling's Banking Services business provides fintechs, such as SumUp, with access to key payment schemes and a full bank offering all through a simple API.
While SumUp enable merchants to accept card payments in seconds with just an easy-to-use device in hand, traditional banking providers and existing card rails means the process of settlement for small businesses currently requires a waiting time of two to four days for payments to clear through. By using Starling Banking Services, SumUp can now ensure their UK merchants will soon receive payments on the next business day and do not need to wait days to see the money their customers have paid them for their products and services.
Starling's Banking Services does this by allowing SumUp's merchants to benefit from:
Real-time access to faster payments

Simple integration with Starling's secure and PSD2-compliant APIs

Full bank grade accounts with a set of unique virtual accounts
Starling's Banking Services continues to grow with this new partnership, serving disruptive and innovative payments businesses across the fintech ecosystem. Existing clients include the Department for Work and Pensions, the savings and investment marketplace Raisin UK and fintechs Currency Cloud, Pockit, PelicanPay and Vitesse.
Helen Bierton, Head of Banking at Starling Bank, said: "Small businesses are the lifeblood of an innovative and entrepreneurial ecosystem, so making sure they can receive the rewards of their hard work is incredibly important. Our partnership with SumUp means that whether a small merchant is serving coffee or cutting hair, we are helping to ensure they get paid as quickly as possible so they can get on with growing their businesses."
Dimitri Gugunava, VP Banking and Acquiring at SumUp, said: "We always look for new ways to improve the services we offer our 1.5 million merchants worldwide on a journey of empowering them to succeed while doing what they love. Quicker payouts is an important step which we were able to take through our partnership with Starling Bank."
Starling was the first challenger bank to be a direct member of the Faster Payments Service and the only banking provider of real-time access to Faster Payments through APIs in the transaction banking world. Starling's pioneering Banking Services platform enables businesses – including Payment Service Providers, retailers, corporations and fintechs - to develop and scale new products and to move money in seconds.
Through their simple APIs, this can be done quickly and efficiently without the need for long development lead-times and complex legal arrangements. Starling customers can pick and choose individual components, or product features, to revolutionise how they make payments and innovate new products for their customers.
---