Starling Bank and Anorak team up
3rd September 2018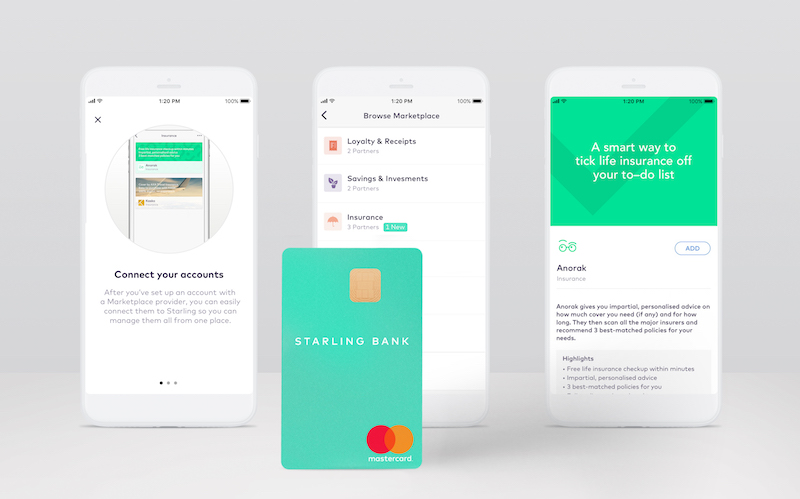 Starling Bank and Anorak team up to provide impartial life insurance advice through the Starling Marketplace.
Starling, the mobile bank, and Anorak, the smart life insurance adviser, join forces to offer Starling customers fast and easy access to personalised, transparent, impartial and regulated life insurance advice.
Anorak is on a mission to make life insurance advice accessible to millions of unprotected families across the UK. Anorak's platform and APIs use advanced data science and machine learning to offer customers tailored advice based on their unique circumstances and their individual risk profile – within minutes.
Through the in-app Marketplace, Starling customers are now able to connect their accounts with Anorak's service. With the customers' consent, Anorak analyses their bank transactions to offer advice on how much life cover they need (if any), for how long and why. Based on this, Anorak matches the user with the best policy from the major insurers, to suit the person's unique circumstances. The service helps people make the right choice, not just the cheapest.
Starling's Marketplace offers its customers direct access to financial services and products directly through the Starling app. Starling has existing partnerships with pension provider PensionBee, digital investing service Wealthsimple, mortgage broker Habito, investment robo-advisers Wealthify, travel insurance provider Kasko and receipts and loyalty partners Tail and Flux.
Megan Caywood, Chief Platform Officer at Starling Bank said, "Starling's Marketplace is designed to give customers ever greater control of their financial lives. Our new partner Anorak does just this – bringing impartial life insurance to our customers within a few minutes. Like Starling, Anorak combines industry experience with great tech to provide a disruptive force for good."
David Vanek, CEO of Anorak, said "Partnering with Starling enables Anorak to deliver on its mission to give everyone easy access to regulated life insurance advice and personalised options. By using Starling APIs, we're harnessing the power of Open Banking to enable consumers to make the right choice and help them protect their families financially."
An advocate of Open Banking to promote financial independence, Anorak participated in Starling's inaugural Open Banking hackathon in April 2017.
About Starling Bank
Starling Bank built the UK's first mobile current account from scratch. We believe everyone should be able to enjoy a healthy financial life — that means giving our customers access to a mobile market of products and services that best fit their financial needs, giving them the tools to make mindful money decisions.
We're a fintech business with a banking licence, fully regulated by the FCA and PRA, and were granted a banking licence by the Bank of England in July 2016. Our app, available for Android and iOS, was launched to the public in May 2017. Starling Bank is directly connected to major payment schemes, including Faster Payments, and MasterCard.
For more information please contact media@starlingbank.com.
About Anorak Technologies Limited
Anorak Technologies Limited, the smart data company, is on a mission to build the world's smartest life insurance adviser to redefine the way millions protect their family. The company was co-founded by David Vanek, former MADE.com group CFO and Vincent Durnez, former CTO at Prima Solutions and Fluo, in 2017.
The company has received £4 million in funding to date from Kamet Ventures and is headquartered in London, UK.
For more information please visit: www.anorak.life or contact gemma@thecrowdandi.com.
---