Starling Bank broadens its business Marketplace with the introduction of Sparqa Legal, the digital lawyer.
9th December 2019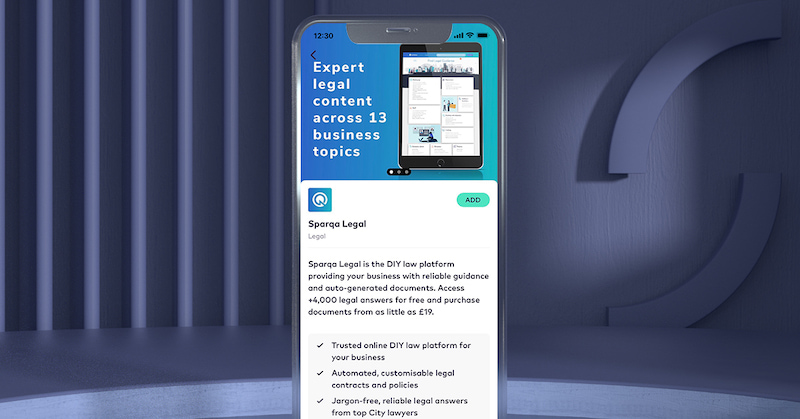 LONDON, 09 DECEMBER 2019: Starling Bank has added the first legal services partner to its rapidly growing business Marketplace, putting affordable legal services at the fingertips of its 88,000 small business customers.
Sparqa Legal, the latest arrival in the Starling Marketplace, has been designed by leading UK barristers and solicitors to provide the expert help and guidance to allow businesses to cut their costs, by reducing their reliance on traditional methods of obtaining legal services.
Starling Business Account holders can sign up to Sparqa Legal on their mobile app, via the Starling Marketplace, giving them access to 350 professionally-designed templates. This allows them to safely create and customise their own bespoke legal contracts, policies and documents. Customers also have access to a wealth of legal guidance on the day-to-day issues businesses face, to help them better understand the law and their obligations.
From employment contracts, commercial agreements and trademark applications, to documents covering health and safety and data protection, and more, Sparqa Legal is especially suited to the needs of startups and small businesses, who must deal with demands for high levels of legal compliance, on modest budgets.
Andrew Thornton, CEO of Sparqa Legal and a barrister at Erskine Chambers said: "At Sparqa Legal, we passionately believe that, armed with the right tools and resources, smart business managers can produce many of the simple legal documents they require. They can also find out about their rights, obligations and the best course to take."
Starling CEO and founder, Anne Boden, said: "It's important that businesses safely navigate themselves through the legal obligations relevant to them and their specific industries. But increasingly businesses are looking to technology to help them solve old problems in new, innovative and cost-effective ways, which is why Sparqa Legal is a very welcome addition to the Starling Marketplace."
Sparqa Legal is the tenth partner to enter the Starling Business Marketplace, joining Xero, FreeAgent, Digital Risks, CyberSmart, Tail, Flux, Nimbla, so sure, and Anorak, covering accountancy software, credit facilities, insurance and now legal services. Like all partners, Sparqa Legal is covered by the Starling Promise of no hidden mark-ups, meaning account holders pay the same as they would if they went direct to the provider.
---