Getting paid when clients go bust: Starling Bank partners with Nimbla
10th October 2019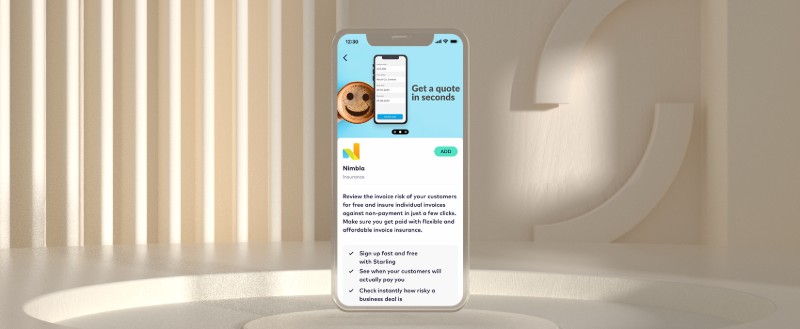 LONDON, 10 OCTOBER 2019: Starling, the leading digital bank, has partnered with Nimbla, the insurance industry disrupter, to offer its 65,000 small business customers the peace of mind to know that if their debtors go bust, they will still get paid.
Nimbla is a digital insurance platform designed to protect small and medium sized businesses against insolvent customers. As a result of the partnership Starling business customers can easily protect themselves from financial losses caused by bankrupt clients, by accessing Nimbla through the bank's in-app Marketplace.
Fears of being left with large unpaid bills when buyers or clients go broke have always been a source of dread for small business owners. But with Nimbla invoice insurance they can insulate themselves against this type of potentially devastating debt.
Starling business customers can shelter themselves from risk quickly and easily by purchasing insurance cover, for either single of multiple invoices, after signing up for a free Nimbla account directly in the Starling Marketplace.
Once onboard with Nimbla customers will have access to its free credit-checking tool, allowing them to better assess the financial risks of working with new business partners.
With the number of bankruptcies on the rise, small businesses are at greater risk of not getting paid. In 2018 17,454 companies failed. This represents a huge threat to the UK's 5.7 million SMEs who are owed billions in late payments alone, at any given time.
So, should a small business owner's worst nightmare come true, and a client go broke, leaving behind a potentially catastrophic unpaid debt, all insured invoices will be paid out, up to 90% of their value.
One such victim was a small London-based designer and producer of fashion accessories that found themselves facing a loss of more than £30,000, when luxury high street brand LK Bennett collapsed into administration in March 2019. However, because the company had the foresight to insure its invoice with Nimbla it was able to recoup 90% of the money owed.
Nimbla becomes the latest partner to join Starling's in-app Marketplace, which harnesses the power of Open Banking APIs to offer customers access to a range of financial products and services securely in their Starling app. By being able to access and monitor more of their business finances from one place, business owners can spend more time growing their business.
Further proving the power of Open Banking and the Starling Marketplace, Nimbla integrates with leading accounting software packages, including Xero and FreeAgent, both of which are also Marketplace partners.
Anne Boden, Founder and CEO of Starling Bank said: "We are building a new kind of business bank which goes the extra mile for customers and our Marketplace partners are an essential ingredient to this. Just like Starling, Nimbla is a great example of a business that is disrupting an old industry model to create products that are relevant to the way we do business today. Nimbla is an excellent addition to our Marketplace that I'm proud to welcome into the fold."
Flemming Bengtsen, CEO of Nimbla commented: "Starling is making fantastic strides in the world of business banking and we are very excited to become part of their Marketplace. Hard-working SMEs deserve access to affordable, fast and flexible protection that will help them expand into new and existing markets, secure invoice funding and safeguard against insolvent customers."
For more information please contact: starlingbank@pagefield.co.uk
---