Starling Bank tackles gambling addiction with new gambling blocker technology
13th June 2018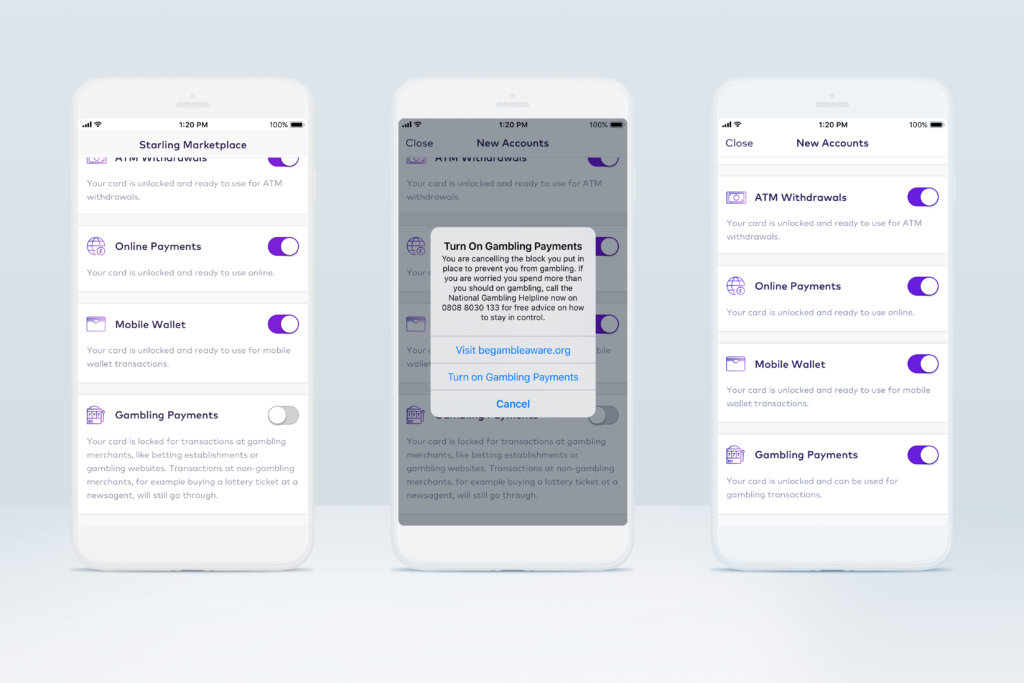 Starling becomes first bank to launch gambling blocker feature, allowing customers to block betting and gambling payments on their card.

0.8% of UK population report having a gambling problem, which is strongly linked to mental health issues and financial harm

Launch backed by Mike Penning MP and GambleAware
Starling Bank, the leading mobile bank recently voted Britain's Best Bank 2018, has today become the first bank to launch a gambling blocker. This technological solution will give Starling customers with a gambling problem the choice to turn on the feature, which blocks card payments to merchants with betting and gambling codes.
Until now, banks have not offered this technology, and customers with gambling problems who want to take action often have to contact various different betting and gambling providers to block their accounts.
Starling customers can activate the blocker as an opt-in feature from within their Starling App. With this feature on, all attempted card transactions to registered gambling merchants will be declined. If they turn the feature off because they want to start gambling again, they will get a message saying: "You are cancelling the block you put in place to prevent you from gambling. If you are worried you spend more than you should on gambling, call the National Gambling Helpline now on 0808 8020 133 for free advice on how to stay in control."
The feature has been launched in response to the significant problems related to gambling addiction in the UK. According to national figures, 5% of gamblers display at least one sign of difficulty managing behaviours while the Gambling Commission recently found that 0.8% of the British public identify as having a gambling problem. The Money and Mental Health Policy Institute has been calling for banks and other card providers to allow customers to block gambling transactions on their cards.
Anne Boden, Chief Executive Officer, Starling Bank, said: "Starling's gambling blocker underlines how digital banking can quickly react to issues facing customers and use technology to develop solutions that help them to live a better financial life.
"This isn't about telling customers not to gamble – it's about providing problem gamblers with a simple and effective tool that can help them to regain control over their finances.
"I set up Starling Bank with the mission of improving financial health and making banking about the customer again. This is exactly the kind of product that will help us achieve this."
Marc Etches, Chief Executive of GambleAware said: "By giving its customers the ability to block gambling transactions, Starling Bank gives them the chance to think twice, and better still, provides contact details for the National Gambling Helpline which offers advice and free treatment. GambleAware warmly welcomes this innovation and hopes all other banks will follow this example as soon as possible."
Mike Penning MP, who's been calling for ATM's to be withdrawn from gambling sites, to prevent credit cards being used for gambling and to stop the promotion of the "free £10 bet", said: "As a constituency MP, only too often I hear of the heartbreak that can be caused by gambling debt. The ability to create a moment of friction could have such a lasting impact on people's lives. I support Starling's forward thinking on this issue and hope to see others doing the same."
Helen Undy, Head of External Affairs at the Money and Mental Health Policy Institute, said: "Problem gambling can lead to spiralling debts and cause real harm to our mental health. The current gambling self-exclusion process is very complicated; different types of gambling have different systems, and blocking gambling can require contacting multiple operators over the phone or in person. It's a system that just doesn't work. That's why we've been calling for banks to step in, allowing customers to block all types of gambling transaction in one go. It's a simple change which could make an enormous difference, and we hope to see more banks following suit and offering it to their customers soon."
Tony Franklin, Starling Bank customer AND Campaigner to raise awareness of gambling addiction and for harm reduction measures, said: "I have long called on the financial services sector to do more to assist vulnerable customers with the tools to control gambling spend. As an existing Starling Bank customer I am delighted to see that from today they will support merchant blocking within their App. I believe that this functionality in addition to others they already offer – Saving Goals – will help many people to better restrict compulsive spending."
This press release has been edited to make clear that the gambling block applies to card payments only.
---