UK 'shed economy' worth £17billion as tens of thousands of entrepreneurs choose garden workspaces over offices
2nd March 2020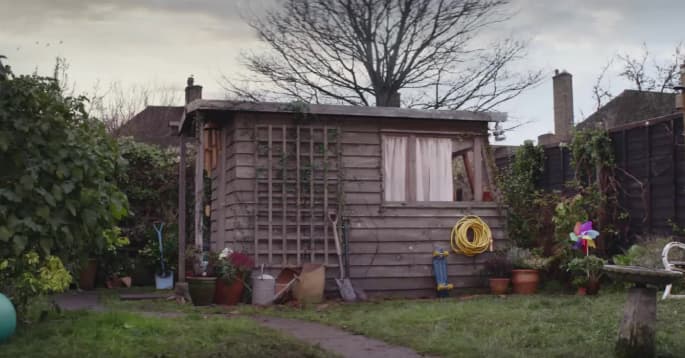 Starling Bank study finds that 104,000 micro-businesses and sole traders exclusively run their business from a garden shed

Shed workers are four times less likely to be stressed compared to those working from an office (7% vs 28%), and are more likely to have a good work-life balance (76% vs 65%)

Average shed worker spends £3,343 on garden workspace, but saves £8,738 a year on rent, commuting costs, food expenses and other overheads
Monday 2nd March – Entrepreneurs running businesses exclusively from an outbuilding or garden shed are contributing almost £17billion to the UK economy, according to new research from digital bank Starling.
With more people than ever now choosing self-employment and a growing emphasis on flexible working, the study found that a huge number of entrepreneurs are migrating from kitchens and home offices to workspaces in the garden where they're more likely to get peace and quiet.
Almost one in three (29%) sole traders and micro-business owners now use their shed as an office at least occasionally, and 1.85% - equating to 104,000 businesses across the UK - exclusively run their business from one, generating an annual revenue of £16.64 billion.
The growing popularity of 'shed working' becomes easy to understand when comparing the attitudes of entrepreneurs who work in this way with those who work from an office. The full-time shed-workers are four times less likely to be stressed at work (7% vs 28%), more likely to feel they have a good work-life balance (76% vs 65%) and are also more likely to be confident about their own business' prospects in 2020 (49% vs 37%).
Entrepreneurs who work from a shed are also happy to splash out on their office space, with the average owner spending £3,343 on construction and renovation, at an average size of 65 square feet. Shed workers also kit out their offices with everything from gym equipment and flat screen TVs to meeting rooms and kitchens.
This spend is more than made up for by the savings they make – entrepreneurs who exclusively run their business from a garden shed save an average of £8,738 a year on rent, commuting costs, food expenses and other overheads.
Some of the commonly cited benefits of working on the business from a shed include avoiding the stress of commuting (35%), being able to juggle work and family life (32%) and being able to spend time with pets (17%). The biggest benefit of all though was getting more peace and quiet (46%), though that doesn't mean that these outdoor offices are limited to solitary work. Almost one in five (17%) shed workers host client or customer meetings in their shed, 13% use them for staff catch-ups, and one in ten (10%) even use them as a venue for new business pitches and meetings.
The study also revealed that some entrepreneurs are opting for more unorthodox outdoor working spaces with answers including a barn, a caravan and a log cabin.
Starling Bank undertook the study to mark the launch of its new TV advertising campaign, "Helping Business Fly", which features an entrepreneur taking flight in her shed working space.
Anne Boden, CEO and Founder of Starling Bank, said: "We have a tradition of entrepreneurialism in the UK and this, combined with the growing emphasis on a healthy work-life balance, has led to an explosion in people working from their homes.
"More people are opting for the freedom of being their own boss. That's why we designed a business bank account that allows entrepreneurs to run their business' finances from their mobile phones."
Psychotherapeutic Counsellor Katrina Murrell, from Northampton, runs her business from her garden shed.
She comments: "Having a family is one of the most important life decisions and I wanted to experience every minute of it. In 2016, on maternity leave, with increasing anxiety about returning to work part-time and the cost of childcare, I thought there had to be a better option. As a qualified Psychotherapeutic Counsellor, all I needed for my practice was me and a room. I had experienced counselling rooms during my training; I found them cold, impersonal, and expensive."
"With the support of family and very little money, a DIY 'shed' was purchased, built in my garden and furnished with second-hand furniture. It was a risk. Would this work? Would clients come? Would it be worth it? My practice has grown consistently, with up to 20 clients a week. My home-based business has allowed me to flex my working hours and achieve my parenthood dreams."
---