Banking

.
But better.

Smooth saving. Instant insights. Beautifully organised bills.

Starling is the full, free UK bank account you can open from your phone.

Apply now
Know your
worth

.

Never ask 'where's it all gone?' again.

Apply now
Outsmart
bills

.

Always know what you've got left to spend.

Pay bills automatically from a ring-fenced Space in your app (and get a reminder the day before they're due). We'll even move the money over for you.

Meet Bills Manager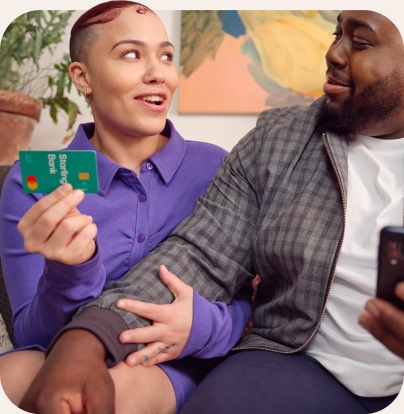 Smash your
saving goals

.

Holidays. Rainy days. Lay out multiple goals, beautifully. Track your progress, effortlessly.

Create Saving Spaces

, add images and switch on Round Ups to get there faster. Or set money aside to keep key business costs organised.
Got a bigger chunk gathering dust?
Make the most of it. Earn 5.36% AER/gross interest with a personal account
Fixed Saver
.
Turn
IOU

into

phew

.

It's payback time.

Send and request payments, without the awkwardness. Fire off a quick link to

settle up

, or split the bill at dinner with a tap of your app.

Apply now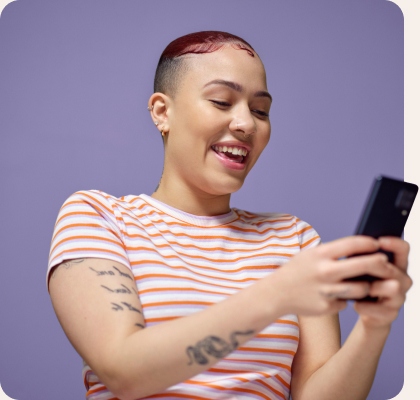 Rule every
budget

.

Create budgets, then spend from them directly by assigning a virtual debit card – use it online or add to your mobile wallet to pay in-person.

Doing the big shop?

Pay with your 'Groceries' budget.

On holiday?

Spend from your 'Weekend Away' Space.

Tell me more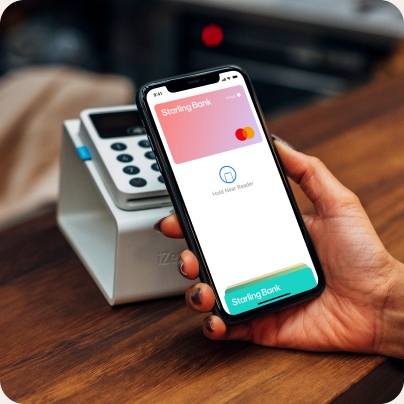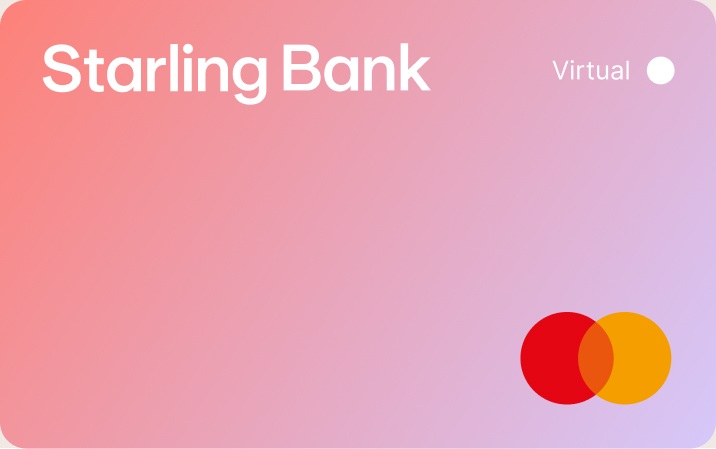 Spend fee-free

overseas.

Pay like a local, anywhere in the world that accepts Mastercard™.

Unlike most banks, we'll never mark up the exchange rate. Bon voyage.

Apply now
Meet the bank that
never closes

.

Night shift? New timezone?

No bots, no call time targets. Talk to our UK-based team 24 hours a day, every day of the year.
You
Help, I've lost my bank card
Starling Bank
Okay, don't worry.
You can 'lock' it in app with just a tap.
You
Oh, that's a relief. Thanks!
Starling Bank is typing
.
.
.
Breathe easy with
secure banking

.

World-class banking security, at your fingertips. From logging in to making payments, keep your money under lock and key (and code and fingerprint) with

industry-leading

security features.
Everything

you need.
FSCS protection up to £85k
24/7 UK customer support
Instant card locking
Overdrafts (if eligible)
Fully regulated UK bank
Scan cheques in-app
Instant notifications
Use with mobile wallets
Cash deposits
Direct Debits
100% digital sign up
No fees overseas
Split the bill with friends
Virtual cards
World-class security features
Nothing

you don't.
No card-readers
No hidden fees
No branch queues
No fees for spending abroad
No call time targets
No bots
Independent

service quality survey results.

As part of a regulatory requirement, independent surveys were conducted to ask customers of the largest personal and business current account providers in Great Britain and Northern Ireland if they would recommend their provider to friends and family. See Starling's results for

personal accounts

and

business accounts

.

Compare bank accounts
Apply for a bank account
in minutes

from your phone.

Every bank account with Starling comes with no monthly fees, the toughest security features and a Mastercard™ bank card.